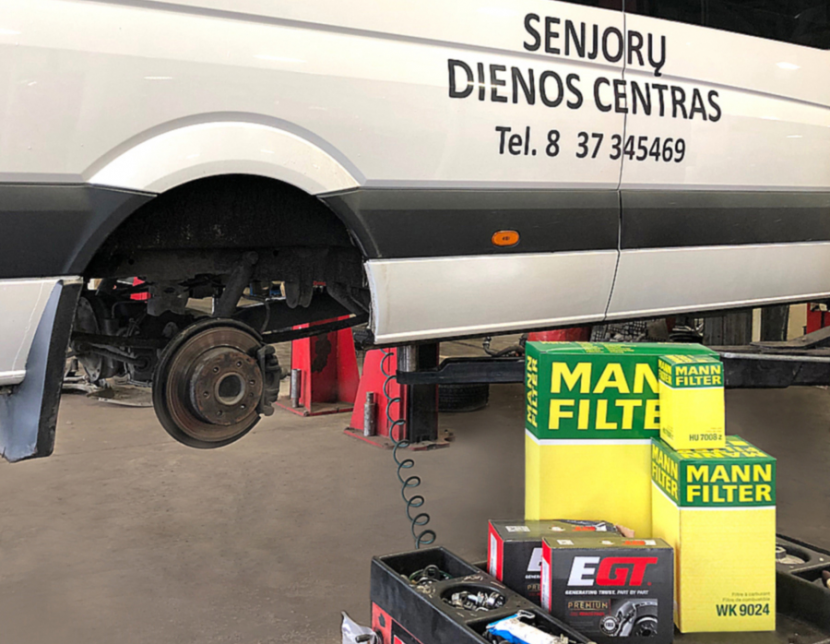 Our service technicians performed a technical inspection of the vehicles used by "Panemunė Social Care Homes" and "Kaunas Generation Homes" daily. These institution accommodate almost 200 elder people.
"Sharing kindness before the big holidays of the year is a must. After all, such promotions have feedback. We are happy to contribute to the noble cause of enabling the elderly to travel and, above all, to do so safely. Now tested cars are really reliable. Our service staff also graciously agreed to contribute to the initiative – everyone had a great time sharing their goodness and good mood, "said Deividas Ramanauskas, Head of Car Repair Center.
Professionals in their field have checked all the necessary vehicle assemblies, belts, and chassis diagnostics. Doubtful parts have been replaced with new ones.
"Before the holidays, institutions like ours are missing a lot – finances are limited. Car maintenance is very important because you have to drive somewhere constantly. In addition, all kinds of things are needed for employment, support of cognitive functions, and sports, "said Indrė Krušinskienė, Head of the Day Care and Care Unit of Panemunė Social Welfare Home.
"As far as I know, they replaced what was needed and repaired the generator. The technicians said that our cars were in a quite good condition, well maintained. Most importantly, they offered to organize an excursion to the Klaipeda Dolphinarium for the elderly and visitors of the day center. It is a very good gift for us, because it is expensive to go and see, and if you are alone, such an excursion would be a luxury, "said Ilona Kimantaviciene, Director of House of Generations.
Retirement home car repair is just the beginning of cooperation. Another gift from the company to seniors is a trip to the Klaipėda Dolphinarium. On December 19, three dozen Kaunas grandparents will go to the Dolphinarium.