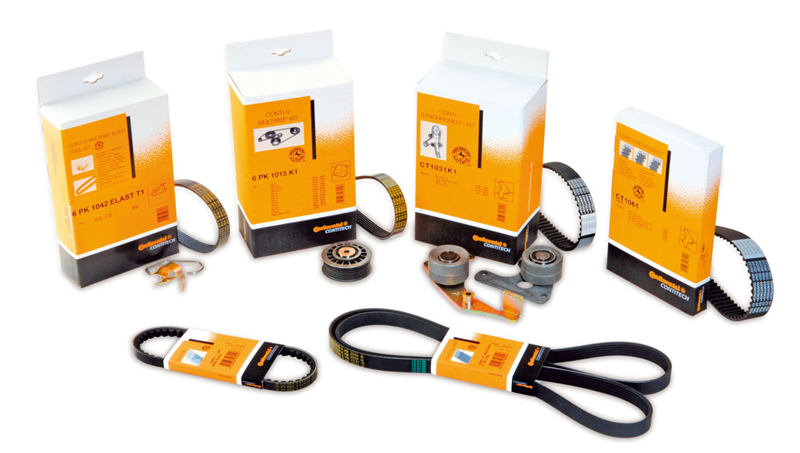 ContiTech products conform to the highest quality requirements, manufactured with the latest production methods and materials. We are the manufacturers of the original production and we are chosen by many car manufacturers and we are certified in accordance with ISO 9001:2008, ISO/TS 16949:2009, ISO 50001:2011 and ISO 14001 standards.
Not doubting the quality of our products, we guarantee, that ContiTech Power Transmission Group products from Automotive Aftermarket product range (belts, belt tensioners, water pumps and etc.) for passenger cars, has no defects in accordance with the current technical standards.
The warranty is applied only to car services carrying out its activities in the participating countries*. Warranty period – 5 years from the installation date. If the ContiTech product is manufactured from poor quality materials or is defective it shall be repaired or replaced. If you have any questions regarding warranty, refer to the product dealer. The corresponding documents confirming the fact of purchase and the date of installation must be submitted to the dealer.
The auto service providing the warranty service may only refer, if it has registered online www.contitech.de/aam and confirmed that the product quality conditions are understood. The warranty is applicable only to those products that were installed after the car service has registered on our website. By registering on the website, the recipient of the warranty confirms his/her consent regarding the use of his/her data for the purposes of the company's internal assessment and agrees to receive the newsletters from ContiTech via the specified e-mail. The submitted data can be removed at any time; however, upon removing the data, the rights to the warranty are lost
The product can be installed only by qualified experts (car service experts). The warranty is not applicable, if the products were installed improperly or they were improperly used or if the car manufacturer's instructions (e.g. replacement intervals, repair and maintenance instructions) have not been followed. The warranty is not applicable due to the normal wear and tear, broke down due to external effects (foreign objects, entered liquids and etc.) or due to misuse, improper operation (e.g. change of configuration, appearance with the intent to improve the technical properties, car racing).
This warranty is governed by the law of the Federal Republic of Germany, except for the rules of private international law and the United Nations Convention on Contracts for the International Sale of Goods.
*47 European states, the state can be chosen while completing the registration form
Rolf Sudmann
Executive Vice President
Independent Automotive Aftermarket