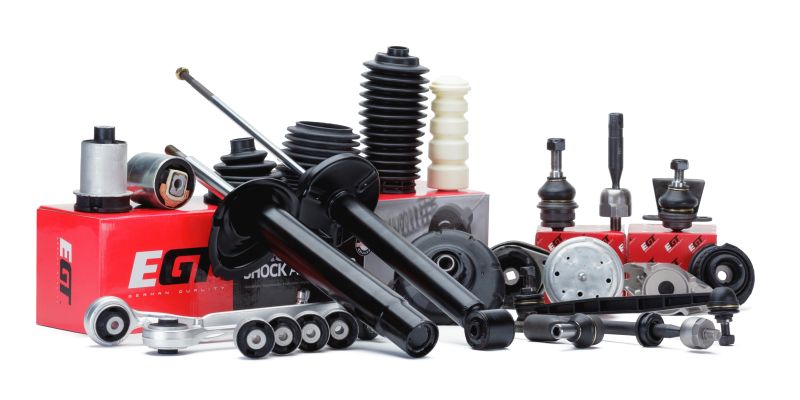 EGT. Generating trust. Part by part.
EGT spare parts for passenger vehicles are being sold in the markets of the Baltic States for almost 15 years. During this period, EGT gained a reputation of one of the most popular and reliable brands. Today we can offer more than 10 000 different parts for passenger cars. A wide range of products and guaranteed quality allows us to compete with the western brands and their products, which have been on the markets for a long time. In order to promote popularity and confidence in the EGT spare parts, we are continuously developing key areas:
Quality – we manufacture our products in modern and reliable factories, which hold the latest technologies and quality certificates and are also capable of offering a wide range of products;
Reliability – we are assured of the quality of the current products, but we never stop and continuously develop our products, therefore we are capable of offering extensive guarantees to our clients rather than most of other brands, currently on the market;
Range of products – we are constantly expanding and updating our basket of products by offering more and more products to the market, this way we can offer spare parts for newer car models;
Stocks -we aim to have a steady amount of spare parts in our warehouses so that we can react quickly to customer inquiries and supply the products on time when necessary;
Recognition – we invest into the recognition of the brand as we would like to introduce much more customers to the capabilities of our products and the benefits involved.
EGT spare parts – reliability and quality for every car.
We invite you to try out our most popular products:
Shock absorbers – a 24 month warranty with unlimited mileage.
Brake callipers – a 24 month warranty. Sold without a deposit.
Disc brake pads – Standard, Premium and Ceramic- for each driver according to the style of driving.
Brake discs – quality metal, 100% balancing.
Batteries – a 36 month warranty. Standard capacity, more starting power.